Gather your family together for a week of building relationships and creating lasting memories! Be refreshed daily in the power of the Gospel through chapel times. Enjoy delicious meals made for you - and no dishes! Participate in family friendly activities ranging from adrenaline pumping night games to sunny afternoons swimming in the Shuswap. Take a week this summer to focus all your attention on your loved ones.
FAMILY CAMP 1
July 25-31, 2021
FAMILY CAMP 2
August 8-14, 2021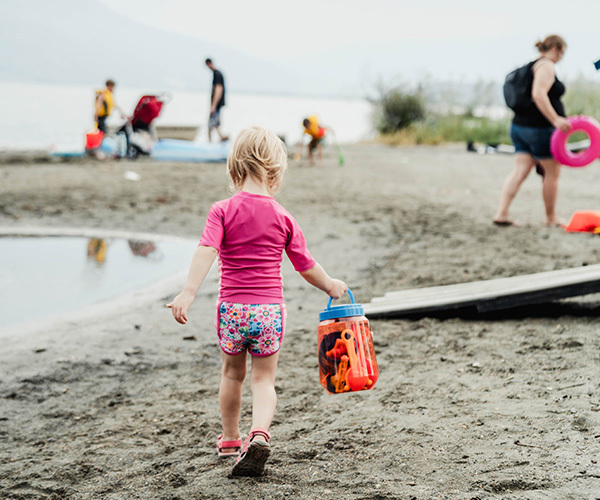 RATES:
Adults - $325
Teens - $300
Kids 6-12 - $275
Kids 2-5 - $250
Kids Under 2 - Free
Family Max - $1680
(applies where all family members are living in the same household)
Accommodation w/ en-suite Washroom - additional $175
RV/Trailer - 10% Discount (RVs/Trailers brought by campers, SBC does not provide)
ACCOMMODATIONS:
Lodge Room - equipped with full washroom, sleeps 8 individuals or a family of 9
Pro-handicap Lodge Room - wheelchair accessible washroom + shower, sleeps 8 individuals or a family of 9
Cabin w/ Washroom - sleeps 12 individuals or a family of 13, some are stair access only
Cabin - sleeps 12 individuals or a family of 13
Accommodations are booked during online registration, first-come first-serve
Beds are all bunk-beds; all have single size mattresses with an exception of one double size.
Trailer/RV Sites - power and water hook up available for 20 sites. Sewer hook up limited to a few sites.
Family Packing List
For a more detail list, check out our Summer Camp Packing List.
Toiletries
Towels (hand, face, beach)
Bedding (bed sizes differ per accommodation, but all are equipped with one mattress equivalent to a double size bed, with either seven (Lodge), or eleven (Cabin) mattresses equivalent to single size beds.
Sports equipment/gear
Water toys
Lawn chairs
Beach umbrella
Electric fan
Clothes for a week of camp, rain or shine!

We ask that attire and swimwear are modest and free of obscene or offensive printing.
We have a laundry facility available for your use as needed. Kids and camp – we know how that goes...
Adults, pack something a little more dressy (semi-formal) if you like, for the Dessert Night!
Family Camp Packing List

Printable checklist of what to pack for Family Camps
Download (85KB)