Join us this year on one of our four awesome Outbound trips! Spend your week in the great outdoors, traveling in Voyageur style big canoes and enjoying a perfect combination of paddling, hiking and camping.
Campers are dropped off and picked up at Sunnybrae Bible Camp and are transported to the trailhead by bus.
***Please Note: The meal plan for Outbound Trips cannot accommodate campers with any Food Allergies or Dietary Restrictions. Please contact the office at 250.835.4596 if you have any questions or concerns.***
COST: $370
Ages 13-16
(Born 2008-2011)
Ages are considered as of Dec. 31 of this year
OUTBOUND 1
JuNE 30 - JULY 5, 2024
---
OUTBOUND 2
July 7 - 12, 2024
---
OUTBOUND 3
August 11 - 16, 2024
---
OUTBOUND 4
August 18 - 23, 2024
---
Deposit: $75
Registration opens Mon., Jan. 8th, 2024!!!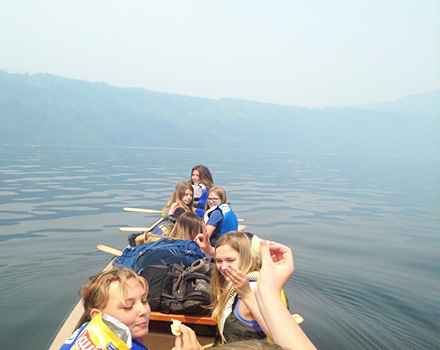 Pack to bring on the trip:

***items will be repacked into dry bags provided by camp***
Sandals for wearing in canoes
Closed toe shoes for dry land
Socks (wool or thinner material for quick drying) - 2 to 3 pairs
Hiking pants
Fleece pants
Hiking shorts - 2 pairs
Underwear (not cotton is possible) - 3 pairs
Quick dry T-shirt (polypropylene, polyester or wool) - 2 pairs
Rain jacket or rain poncho
Fleece jacket or hoodie (medium weight)
Hat
1 L Water bottle (SBC can provide)
Small Bible (SBC can provide), journal and pen, packed in a Ziploc plastic bag so it is ideally waterproof
Sunscreen (small bottle)
Toothbrush & small toothpaste
Deodorant
Small flashlight or headlamp
towel (small)
Swimsuit (gals, no bikini's please; boys, no Speedo's)
Please ensure all clothing is non-revealing, free of obscene or offensive printing, and appropriate for the activities in which your camper will be participating.
Pack in a separate bag to leave at Sunnybrae for before and after the trip:
Soap & shampoo
Extra pair of shoes
One complete set of clean clothes
2 pairs of underwear
Do not pack:
Anything cotton if possible, due to its inability to dry quickly
*Valuables (i.e. jewelry)
*Electronics / anything with a cords
*We don't want these items to be damaged or lost on the trip, and we have found that cellphones especially are a huge distraction from the camping experience; there also will not be cell service during some parts of the trip, so SBC staff will be carrying a satellite phone.
Sunnybrae outfits and provides:
Tents
Waterproof bags for clothing and personal items
Enviro friendly soap & shampoo
Sleeping pads & sleeping bags
Cooking supplies & stove
Utensils, bowls, etc.
Water filtration
First Aid supplies
There is no room for packing a pillow, unless you purchase specifically a camping pillow, but you can bring a pillow case to stuff your clothes into, or roll up a jacket or hoodie to serve that purpose.
Outbound Packing List

Printable checklist of what to pack for Outbound Camps
Download (85KB)