***Due to the extension of Provincial Health Orders, we have decided to cancel all Outbound Camps. However, please check out our new Day Camp and Family Camp options for Summer 2021!***
Join us this year on one of our three awesome Outbound trips! Spend your week in the great outdoors, traveling in Voyageur style big canoes and enjoying a perfect combination of paddling, hiking and camping. Uncover your inner treasure hunter with the help of our new metal detectors and super powerful magnets – who knows what you might unearth! Or try your hand at counter-acting the pull when flying one of our awesome power kites. One thing is for sure, your Shuswap canoeing excursion is guaranteed to be a unique and high impact adventure!
Campers are dropped off and picked up at Sunnybrae Bible Camp and are transported to the trailhead by bus.
***Please Note: The meal plan for Outbound Trips cannot accommodate campers with any Food Allergies or Dietary Restrictions. Please contact the office at 250.835.4596 if you have any questions or concerns.***
Scroll down for more details and the packing checklist.


$315 + GST
Ages 13-16
Ages are considered as of Dec. 31 of this year
(CANCELLED) OUTBOUND 1
July 4 - 9, 2021


(CANCELLED) OUTBOUND 2
July 25 - 30, 2021

(CANCELLED) OUTBOUND 3
August 8 - 13, 2021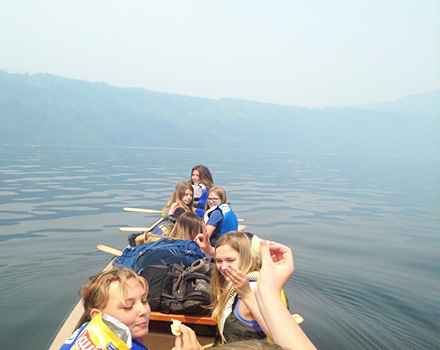 OUTBOUND PACKING CHECKLIST
Pack to bring on the trip:

***items will be repacked into dry bags provided by camp***
Sandals for wearing in canoes - 1 pair
Closed toe shoes for dry land - 1 pair
Socks (wool or thinner material for quick drying) - 2 to 3 pairs
Hiking pants - 1 pair
Fleece pants - 1 pair
Hiking shorts - 2 pairs
Underwear (not cotton is possible) - 3 pairs
Quick dry T-shirt (polypropylene, polyester or wool) - 2 pairs
Rain jacket or rain poncho
Fleece jacket or hoodie (medium weight)
Hat
1 L Water bottle (SBC can provide)
Small Bible (SBC can provide), journal and pen, packed in a Ziploc plastic bag so it is ideally waterproof
Sunscreen (small bottle)
Toothbrush & small toothpaste
Deodorant
Small flashlight or headlamp
towel (small)
Swimsuit (gals, no bikini's please; boys, no Speedo's)
Please ensure all clothing is non-revealing, free of obscene or offensive printing, and appropriate for the activities in which your camper will be participating.
Pack in a separate bag to leave at Sunnybrae for before and after the trip:
Soap & shampoo
Extra pair of shoes
One complete set of clean clothes
2 pairs of underwear
Do not pack:
Anything cotton if possible, due to its inability to dry quickly
*Valuables (i.e. jewelry)
*Electronics / anything with a cords
*We don't want these items to be damaged or lost on the trip, and we have found that cellphones especially are a huge distraction from the camping experience; there also will not be cell service during some parts of the trip, so SBC staff will be carrying a satellite phone.
Sunnybrae outfits and provides:
Tents
Waterproof bags for clothing and personal items
Enviro friendly soap & shampoo
Sleeping pads & sleeping bags
Cooking supplies & stove
Utensils, bowls, etc.
Water filtration
First Aid supplies
There is no room for packing a pillow, unless you purchase specifically a camping pillow, but you can bring a pillow case to stuff your clothes into, or roll up a jacket or hoodie to serve that purpose.
Outbound Packing List

Printable checklist of what to pack for Outbound Camps
Download (87KB)